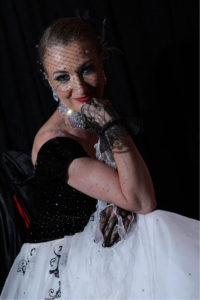 Drawing from years of experience, award recognition's and definitive vision, Monique Saviano has established herself as a premier designer of dance couture dresses.
Each dress is meticulously made and sophisticated and because Monique is a dancer herself, she understands dance construction.
Her dress design architecture, materials and form are all suited for the floor.
These dance couture dresses will stand the test of time as classics.
---
Education
Certificate in Fashion Design from Cañada College, 2007
Course work with couture designer Susan Khalje, Parisian draping designer Julien Cristofoli, and Lesages embroidery techniques with Robert Haven, Associate Professor CostumeTechnology at University of Kentucky.
---
Awards and Accomplishments
Co-chair of Cañada College Artistry in Fashion Show event, 2006 & 2007
Appeared on KCSM "The Bay Today" segment on Fashion & Beauty
Finalist in Threads magazine "Inspired by Art" competition, 2007
Participant in David Sassoon Day at Association of Sewing and Design Professionals' conference in Chicago, 2008
2010 Winning garment featured in May 2011 issue# 154 of Threads magazine
Featured in - Sew Like a Pro - Fall 2010 "Teach Yourself to Sew" magazine
2009 Winning garment featured on the front cover of May 2010 issue# 148 of Threads magazine as well as cited in feature article
Cited in feature article in February/March 2010 issue of Threads magazine
http://www.threadsmagazine.com/item/11027/vionnet-in-miniature
Cited in feature article in April/May 2009 issue of Vogue Patterns magazine
Feature interview with Dino-Ray Ramos in Contra Costa Times and Oakland Tribune:
---
Endorsements
"Monique Saviano, a driving talent of the show, shined with signature vision," story by Dino-Ray Ramos in "Cañada fashion design students display their creative artistry", Oakland Tribune, Oct. 23rd, 2007,
"Monique Saviano's silk organza and burnout velvet gored skirt is gorgeously textured and moved with the beauty of a galloping unicorn –okay, maybe not a unicorn, but there was something magically nymph like and fantastical about that skirt." By Dino-Ray Ramos in "Canada College is alive with FASHION!", Oakland Tribune, Oct. 23rd, 2007